What is a Service Management Office? Everything you need to know.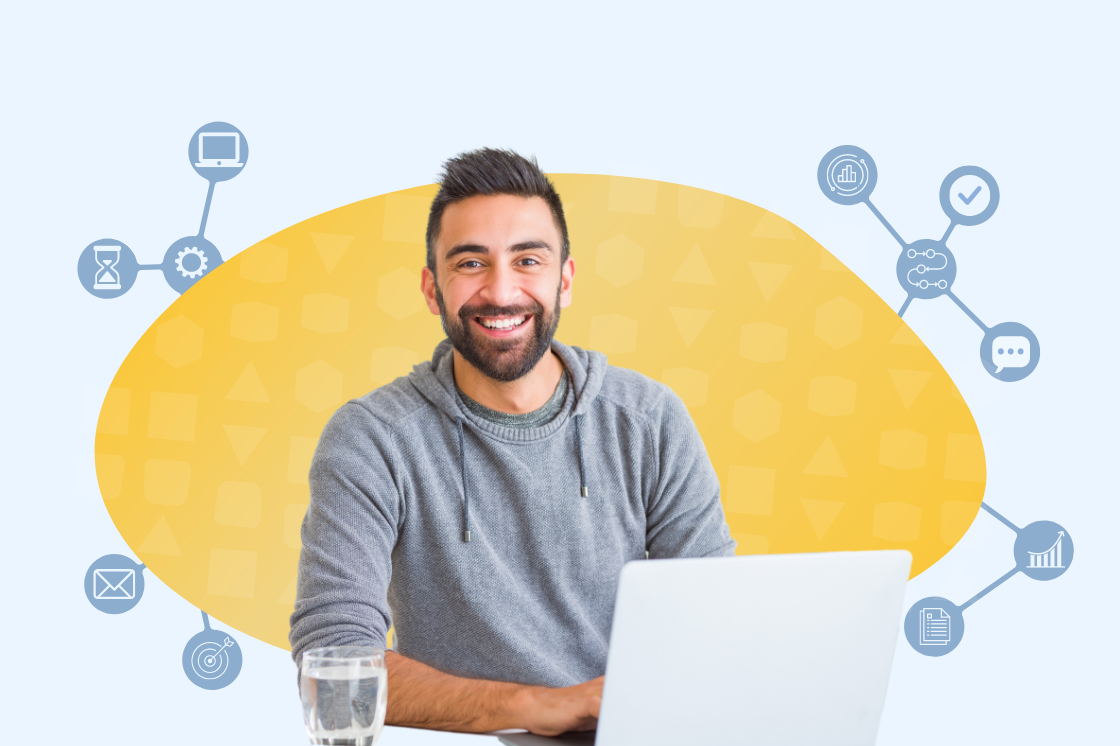 What is a Service Management Office?
A service management office (SMO) is a center of excellence within your organization chartered to improve the quality, effectiveness, and efficiency of delivering ITSM services.
The SMO supports your Service Management Organization by leveraging industry-standard best practices such as ITIL®, along with modern ITSM tools, and applying them to your organization's unique environment.
Service management may have its roots in the early days of mainframe computing, but that doesn't make it a dinosaur.
ITSM has evolved to meet current challenges by adopting concepts from Agile, DevOps, and Value Stream Mapping to become the de facto framework for IT organizations to manage their activities in support of the business.
One of the main ITSM challenges facing IT organizations is balancing the desire for centralized control and process consistency with the requirement for improved efficiency and agility.
The service management office provides a solution to that challenge by creating a central function with the requisite skills and knowledge to assist individual departments with designing, implementing, and improving IT and Business Processes. Leveraging an SMO reduces redundancies and drives efficiency.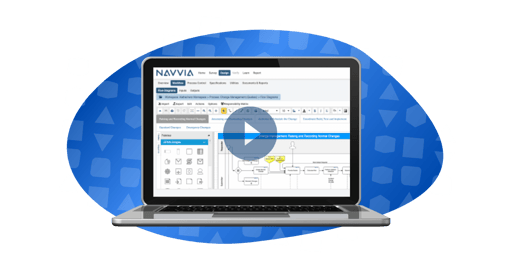 Click to learn how Navvia's software supports an SMO


SMO VS PMO
While different in purpose, the PMO & SMO both provide a central point of focus within the organization to drive efficiency and effectiveness.
The difference between a PMO & SMO is their area of focus.
The PMO coordinates projects, which are temporary endeavors to achieve a specific outcome. They have clear start and end dates. Examples include implementing a new ERP system or ITSM tool.
The PMO often aligns with best practices from the Project Management Institute (PMI) or the PRINCE2 project management methodology.
The Service Management Office coordinates the continuous activities of managing ITSM services. Examples would include Process Design, ITSM Tool Support, Process Governance, and Continual Service Improvement.
The SMO leverages complementary disciplines such as Business Process Management, COBIT®, ISO20000, ITIL®, Lean IT, and Six Sigma (to name a few).


Having both an SMO & PMO
Many organizations have recognized significant benefits of having both an SMO & PMO that work closely together.
The PMO manages delivery projects of new IT capabilities while the SMO coordinates the activities that help an organization use those capabilities to generate business value.
For example, the PMO may drive a ServiceNow implementation, while the SMO will be responsible for managing the processes and driving continuous improvement once the installation is complete.
Connecting these two functions enables an organization to execute continuous service-improvement initiatives that result in better quality services for end-users.

Click here to learn more about the importance of an ITIL PMO
Service Management Office Organizational Structure
There are two models for the Service Management Office. Choose the approach that best aligns with your organization's size and culture.
A Centralized SMO is one where the SMO will directly manage and oversee all employees working on service-management activities. You typically see this in smaller IT organizations.
A Decentralized SMO combines dedicated and "dotted line" resources. People with highly specialized skills (for example, process design specialists or ITSM tool specialists) could report directly to the SMO. In contrast, folks with departmental knowledge (for example, the service desk process owner or the release manager) could "dotted line" report to the SMO. In this model, the function of the SMO is to provide advice, guidance, and specific technical knowledge.

Centralized SMO
A centralized SMO model typically oversees the service desk, incident management, problem management, change management, Request Management, and IT Asset Management processes.
The centralized SMO may also own the service catalog, SLAs, service-level monitoring, process reporting, and ITSM tools (ServiceDesk tools, asset management software, event management software, the CMDB, or other ITSM systems).
In this model, the roles of the process owner and process manager may reside within the individual business or IT groups closer to the end-users of services.


Decentralized SMO
In this model, the SMO may have a much smaller mandate and do little more than set policy and standards, define processes and provide training to service-management practitioners distributed throughout the organization.

Implementing a Service Management Office




Here are some things to consider when implementing your SMO.
SMO Executive Sponsorship

SMO Reporting Structure

ITSM Roles and Responsibilities

ITSM Standards

ITSM governance
SMO Executive Sponsorship
The SMO should have an influential executive sponsor who understands the value of service management and has a genuine interest in ensuring the SMO is successful. An effective Executive Sponsor gets the SMO involved early in service design and gives them a seat at the table with the other departments within the IT organization.


SMO Reporting Structure
Do not take this lightly. Where you place the SMO in your organization will directly affect its chance for success. You do not want to create an "ivory tower" with minimal influence.
Many companies place the SMO on par with the PMO, Application Development, Support, IT Operations, Enterprise Architecture, and Security departments. This placement helps make service management a critical part of all IT functions.


ITSM Roles and Responsibilities
Regardless of which model you adopt, centralized or decentralized, you will need to have people performing the following roles. Actual titles may vary from company to company.
Director, Service Management Office
Responsible for coordinating the activities of the Service Management Office. Sets the overall strategy and creates the operational plan. Management responsibilities for the full-time members of the SMO. Reports to senior IT Leadership.
ITSM Solutions Architect
Responsible for developing the overall ITSM architecture consisting of process, governance, and tool frameworks. Works with the business to create specific solutions for their needs. The architect stays abreast of best practices and advancements in the ITSM industry and works to incorporate those standards into the company.
ITSM Process Designers
Also known as business process analysts, the designers have specific knowledge in designing ITSM processes and capturing functional requirements and technical specifications essential for automation. Other skills include workshop facilitation and expertise with process modeling software.
ITSM Process Owners and Managers
The Process Owner is a senior manager with the ability and authority to ensure the process is rolled out and used by all departments within the IT organization. The Process Manager is responsible for the day-to-day execution of the process. These roles often reside within the business and dotted-line report to the SMO.
ITSM Tool Specialists
Responsible for implementing, configuring, administering, or developing solutions within the ITSM tools.
ITSM Reporting, Governance, and Continual Improvement
Responsible for producing process analytics, establishing and monitoring process controls, identifying process gaps, and implementing process improvements.
ITSM Training and Communications
Responsible for developing awareness and communication programs in support of the ITSM program. Also responsible for developing and delivering ITSM process and tool training.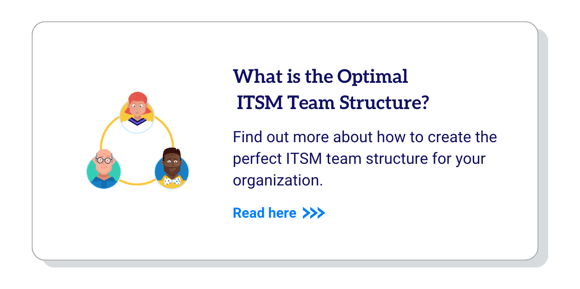 ITSM Standards
The good news is that you do not have to start from scratch. There are many mature and well-documented standards that you can leverage. We recommend ITIL® for processes and practices, COBIT® for governance, and Agile & DevOps for development. You may also want to consider other frameworks such as Business Process Management, Lean IT, and various ISO standards.
ITSM governance
Take your eye off the ball, and your process will erode over time, resulting in inefficiencies, dissatisfaction, and potential process failures.
Work with the audit department to design processes that meet any corporate governance requirements

Measure process efficiency and implement corrective action

Measure employee satisfaction and implement process improvements that meet the needs of your employees



Watch this webinar on how Columbia University has implemented their SMO
Value of a Service Management Office
Success comes with focus, and the Service Management Office is the best way to focus your ITSM initiative.
A strong SMO centralizes shared capabilities, allows you to build and leverage critical skills, and creates the structure for continual service improvement. Together, this will reduce cost and improve satisfaction with the service that IT delivers!
Originally published Sep 17, 2018 14:53 PM, updated May 27, 2022