Implementing a Service Management Office Organizational Structure
In previous posts, we suggested the Service Management Office (SMO) as a crucial part of your ITSM program. So how do you go about implementing a Service Management Office Organizational Structure?
Establish Executive Sponsorship
The success of your Service Management Office is highly dependent upon obtaining the right level of Executive Sponsorship.
A vital mandate of the SMO is to implement standardized ITSM processes and tools across the organization.
Without proper sponsorship, you will experience resistance, ultimately impacting your ability to execute.
Ideally, your sponsor should be at a level high enough to influence all departments within IT, ensuring your ability to implement and govern ITSM best practices.
ITSM Business Case
Developing an ITSM Business Case will be essential to obtaining sponsorship for your SMO. The business case should include such things as:
Include an executive summary describing why a Service Management office is necessary. You may cite the operational efficiencies that come with centralized capabilities (much like a PMO improves project management).

ITSM Assessment of the current state. Outline the existing inefficiencies. Examples could include; multiple ITSM tools providing a similar function, process inefficiencies leading to downtime, and project overruns leading to increased cost.

ITSM benefits from having an SMO. Quantify the productivity gains and cost savings an SMO will deliver. Identify intangible benefits such as employee and customer satisfaction.

Identify SMO implementation costs. Include staffing, specialized tools, process design & implementation costs, consulting support, and other expenses. Break the costs down by annual and one-time expenditures.

Provide the bottom-line recommendation detailing why the SMO is necessary and the required implementation plan.
Identify the Service Management Office Organizational Structure
There are two models for the Service Management Office. Choose the approach that best aligns with your organization's size and culture.
A Centralized SMO is one where the SMO will directly manage and oversee all employees working on service-management activities. You typically see this in smaller IT organizations.
A Decentralized SMO combines dedicated and "dotted line" resources. People with highly specialized skills (for example, process design specialists or ITSM tool specialists) could report directly to the SMO. In contrast, folks with departmental knowledge (for example, the service desk process owner or the release manager) could "dotted line" report to the SMO. In this model, the function of the SMO is to provide advice, guidance, and specific technical knowledge.
Identify ITSM Roles and Responsibilities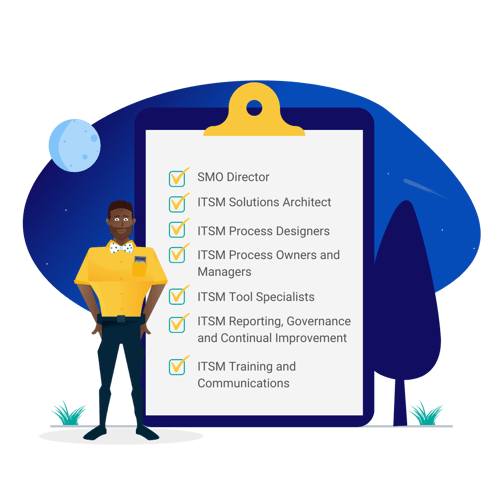 Regardless of which model you adopt, centralized or decentralized, you will to establish an ITSM team structure with people performing the following roles. Actual titles may vary from company to company.
SMO Director: Responsible for coordinating SMO activities.

ITSM Solutions Architect: Responsible for developing the overall ITSM architecture consisting of process, governance, and tool frameworks.

ITSM Process Designers provide subject matter expertise in the design and documentation of processes

ITSM Process Owners and Managers: Responsible for operational oversight of the processes.

ITSM Tool Specialists: Responsible for implementing, configuring, administering, or developing solutions within the ITSM tools.

ITSM Reporting, Governance, and Continual Improvement: Responsible for producing process analytics, establishing and monitoring process controls, identifying process gaps, and implementing process improvements.

ITSM Training and Communications: Responsible for developing awareness and communication programs supporting the ITSM program.
Set ITSM Standards
The good news is that you do not have to start from scratch. There are many mature and well-documented standards that you can leverage. We recommend ITIL® for standards-based itsm processes COBIT® for governance, and Agile & DevOps for development. You may also want to consider other frameworks such as Business Process Management, Lean IT, and various ISO standards.
Establish ITSM governance
Take your eye off the ball, and your process will erode. This erosion will result in inefficiencies, dissatisfaction, and potential process failures. Use standards such as COBIT to establish process controls and adopt Lean IT practices to eliminate waste and improve your IT services.
Many organizations have implemented a Service Management office organizational structure in name only. In many organizations, it's just another name for the ITSM platform team. To realize the full advantages of the SMO, ensure you get the right sponsorship and the steps listed above. This approach will lead to ITSM success!
Originally published Oct 26, 2018, 2018 14:23 PM, updated May 27, 2022