Leading a Successful ITSM Tool Implementation
Anyone can implement an ITSM tool - it takes leadership to do it right! Join us on this webinar as we explore five things to consider as part of your ITSM tool implementation.
In today's webinar we look at the leadership qualities and practices required to lead an ITSM tool implementation.
5 things to consider when implementing an ITSM tool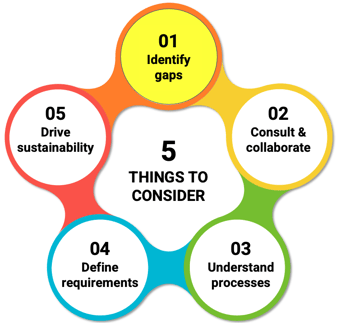 Identify Gaps: Chances are, you are implementing a new ITSM tool because there are deficiencies with the old. Maybe you are missing functionality. Perhaps the user experience is poor. Spend time understanding the weaknesses so you don't replicate the issues in the new tool.
Consult & Collaborate: Implementing a new ITSM tool is a significant organizational change as it will affect how people work. It would help if you made sure people were onboard. Start with getting the right sponsorship level so that people take the change seriously. Make sure you involve all the key stakeholders as they understand their requirements better than you do. Engage the end-users by communicating what's in it for them. The collaboration will mitigate resistance and help drive the adoption of the new solution.
Understand your processes: Your ITSM tool can be a powerful process automation tool, but automation starts with understanding your processes. Identify the process owners and managers and get them involved in the project. Identify process bottlenecks and look for ways to improve. Create solid process documentation that can both guide the implementation and educate the users. Check out these best best practice guides for Incident Management, Problem Management, and Change Management.
Define Requirements: The better your requirements definition, the smoother the implementation. Consider persona-based user stories as a way of capturing requirements; for example As a user, I need to be notified when my incident is resolved. Don't confuse configuration with customization. Try to avoid customizations (modifications to the tool are hard to maintain and can prove costly). Customizations are essential and are not "out of the box". Take the time to document your requirements.
Drive Sustainability: Implementing an ITSM tool can be an expensive endeavor. You must maximize the value you receive. Use training to drive adoption. Define metrics for your processes and measure performance. Establish a governance and review approach that assesses how well the process and tool is performing and use it to implement improvements.
A successful ITSM tool implementation goes beyond the tool. Ensure you take the time to look at your current processes and the needs of your stakeholders. Don't fall for "out of the box" or quick fixes; take the time to do it right!