Why is ITSM Important to the Financial Services Sector
In Today's webinar, we will be discussing how ITSM helps drive IT Automation and Digital Transformation within the Financial Services Sector.
The Financial Services Sector was one of the earliest adopters of information technology. Today, IT is core to virtually every service the industry offers. As a matter of fact, the financial services sector spends more on technology than almost any other industry sector, with the exception of the Software industry.
Financial Services Industry: A Leader in Technology Investment
The financial services sector is among the top three sectors in terms of technology investments. Let's take a closer look at the sector when it comes to spending a significant proportion of revenue on technology:


Global Enterprise IT spending in the banking and securities market is forecast to grow by 5.2% in 2021 to $570 billion, up from $542 billion by 2022.
Spending is expected to see a five-year compound annual growth rate of 5.7% to reach an estimated $715 billion by 2025.
IT spending worldwide is expected to reach about 4.2 trillion U.S dollars in 2021, a 9.5% increase in growth, with a significant amount of that spending coming from the Financial Services sector.
Where is the Financial Services sector investing IT dollars?
Here are the top 5 IT investment priorities for the financial services sector (based on the Flexera STATE OF TECH SPEND REPORT | 2021)
Cyber Security
Cloud / Cloud Migration
Customer Experience
Cost Savings
One can argue that Cloud Migration and Customer Experience are actually a subset of Digital Transformation.
Gartner defines Digital Transformation as:
"Digital transformation can refer to anything from it modernization (for example, cloud computing) to digital optimization, to the invention of all new digital business models.
The term is also widely used to refer to modest initiatives such as putting services online or legacy modernization. Thus, the term is more like "digitization" than "digital business transformation"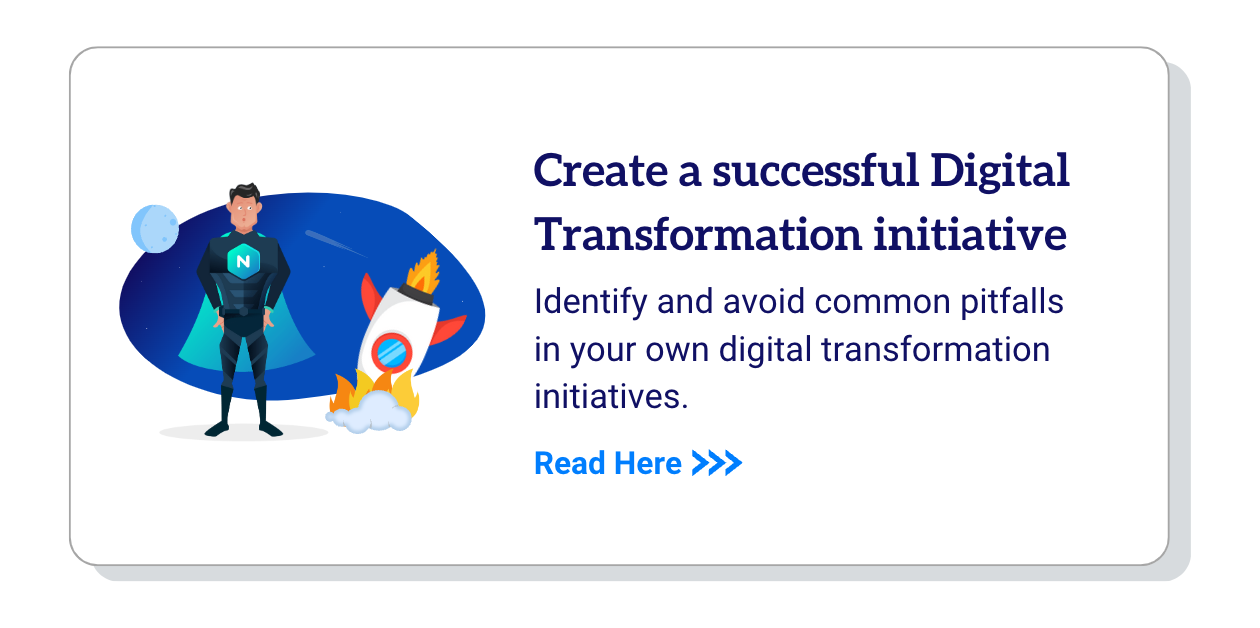 Unfortunately, 75% of Digital Transformation initiatives will fail to meet their objectives. Discover why by visiting Why Digital Transformation Fail.
ITSM: Fundamental to protecting and enhancing an organizations investment in information Technology
Historically, ITSM was introduced to improve the availability, reliability, and resiliency of the machines that organizations ran. Basically maintaining existing systems.
The same practices used to maintain the environment can also help accelerate Digital Transformation and Business Process Automation.
Let's start by defining ITSM.
"IT Service Management is an approach, a framework, for IT and the Business to collaborate on the design, development, implementation, support and ongoing improvement of business solutions."
Often, ITSM is conflated with ITIL and ITSM tools. Processes and Tools are an important part of Service Management, but it's putting Service Management into practice that will deliver the best benefits.
Practices like Design Thinking, Process Design, User Story Mapping, Requirements Gathering and Process Automation are fundamental part of an ITSM practitioner's toolkit.
These practices have been used for decades to implement robust service management systems that have improved the reliability and availability of IT systems.
Today, these same practices can be used by the Business to create high-performance customer experiences in less time and with less rework.
The end result is mitigating the risk of Digital Transformation failure.
We hope you enjoy the webinar. Please feel free to reach out to us if you have any questions at https://navvia.com/contact/