Should Your Company Adopt an ITIL Organizational Structure?
ITIL is one of the most popular best practice frameworks for information technology practices and processes. But can a company adopt an ITIL organizational structure?
The simple answer is no. ITIL isn't an organizational structure; it's a best practice framework of processes and practices. The real question should be, "how should I set up my ITSM organization?".

Before answering that question, let's briefly look at ITIL's history.
ITIL® History
In 1989, the UK government commissioned a project to standardize a set of best practice processes across their growing number of data centers.
They published these processes in a collection called the IT Infrastructure Library (ITIL V1). This library went through various revisions over the years.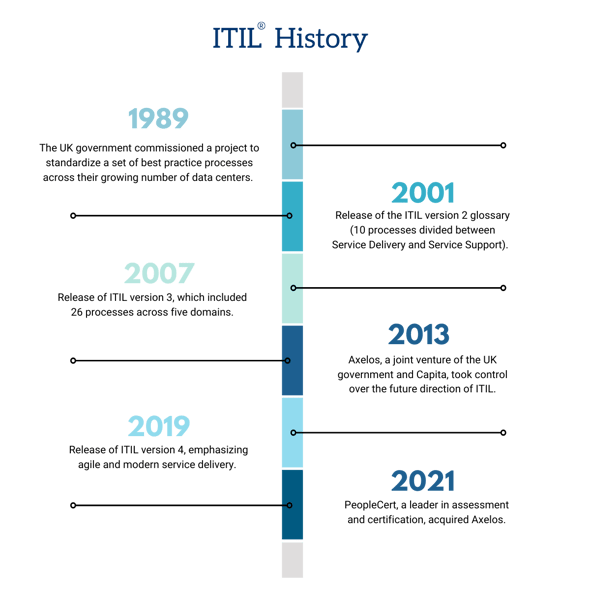 In 2006 we saw the release of the ITIL version 2 glossary (10 processes divided between Service Delivery and Service Support).

In May of 2007, we saw the release of ITIL version 3, which included 26 processes across five domains (Service Strategy, Service Design, Service Transition, Service Support, and Continual Service Improvement)

In 2013, Axelos, a joint venture of the UK government and Capita, took control over the future direction of ITIL.

In February 2019, we saw the release of ITIL version 4, emphasizing agile and modern service delivery. It has 34 practices / processes spread across three categories (general management, service management, and technical management)

PeopleCert, a leader in assessment and certification, acquired Axelos in July 2021.
Another aspect of ITIL is that it's agnostic regarding industry sector and technology.
Companies of every size across virtually every industry sector have adopted ITIL practices.
When it comes to technology, the sheer number of ITSM tools is overwhelming. The global market for ITSM tools is $6.9 Billion. It consists of hundreds of products (according to the Gartner Magic Quadrant for IT Service Management Tools (published August 30, 2021, by Rich Doheny, Keith Andes, and Chris Matchett).
Why not adopt an ITIL Organizational Structure?
As stated at the onset of this post, ITIL isn't an organizational structure. It is a best practice framework of processes and practices.
But the main reason is that Service Management is much broader than ITIL defines, encompassing other frameworks and a comprehensive assortment of ITSM tools.
Service Management Organization Structure
So what should my service management organization structure be?
Like with any endeavor, success comes with focus. One way to focus your ITSM efforts is by creating a functional organizational structure for all things Service Management.
This ITSM team structure can take many forms, including:
ITIL PMO

Service Management Office

Enterprise Service Management Office.
But as Shakespeare said, "a rose by any other name would smell as sweet."
The most common name today is the Service Management Office. However, regardless of its name, it performs the following function: "a center of excellence within your organization chartered to improve the quality, effectiveness, and efficiency of delivering ITSM services."
This center of excellence should bring together process owners, process managers, business process analysts, ITSM architects, and ITSM tool specialists, along with people responsible for metrics, reporting, ITSM training, and CSI.
Depending on your company's size and culture, you may want to implement a centralized or decentralized Service Management Office.
In the centralized model, all resources and ITSM tools report to a single senior manager.
The decentralized model has some specialized resources reporting to the Service Management Office, while others belong to other IT departments (Development, Operations, Service Desk...).
Bottom line: We recommend you look beyond ITIL and create a functional organizational structure encompassing a comprehensive set of ITSM frameworks and technology guided by a Service Management Office.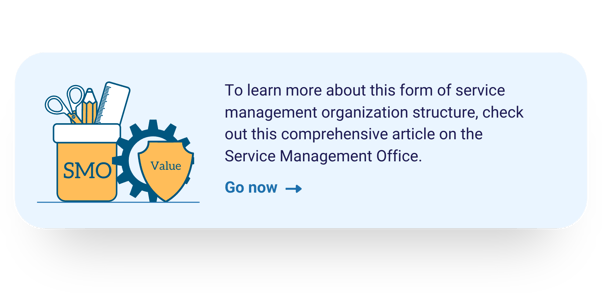 Originally published Oct 26 , 2018 11:27 PM, updated Jun 15, 2022