Introduction to the SIPOC diagram
Today's post is on the topic of the SIPOC diagram.
We will start by defining what a SIPOC diagram is, where it is most often used, along with some of the more typical use cases. We will then give a quick demonstration of the all-new SIPOC feature within the Navvia Process Designer.
What is a SIPOC diagram?
First off, SIPOC stands for Suppliers, Inputs, Process, Outputs, and Customers.
Organizations use SIPOC to capture, at a high-level, all the critical parts of a process. Let's go ahead define the five pieces of a SIPOC diagram.
Suppliers

: Any role, system, or inter-process connection that provides inputs to the process

Inputs

: An input is a trigger for the process. Inputs are something transformed, consumed, used, or processed. They can sometimes be the output of another process.

Process

: a list of the high-level steps of the process

Outputs

: An output is a value-added result produced by the process. They can sometimes be the input into another process.

Customers

: Any role, system, or inter-process connection that receives outputs from the process
So what is a process?
Before we go any further, what do we mean by process?
ITIL® 4 defines a process as "A set of interrelated or interacting activities that transform inputs into outputs. A process takes one or more defined inputs and turns them into defined outputs. Processes define the sequence of actions and their dependencies."
I would go one step further as and say, "a process is a set of activities that transforms inputs into value-added outputs." There is no point in having a process if it doesn't add value.
For example, suppliers such as engineers and designers use the inputs of silicone, metal, glass, and plastic, in the Multi-step manufacturing process, to deliver the output of a cell phone for customers consisting of consumers and businesses.
A SIPOC diagram puts everything on one page, allowing you to create a more detailed process or to decompose a process for improvement.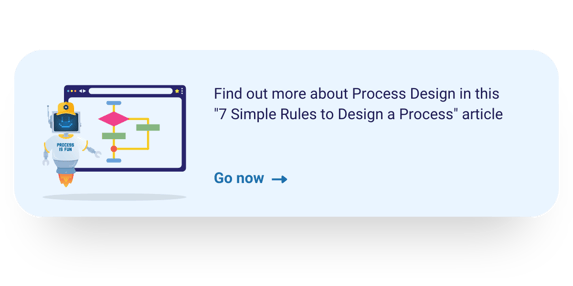 Don't confuse Process with Procedure
And let's not confuse the process with a procedure. The process describes what we need to do, while the procedure explains how we do it.
For example, a procurement process may start with step 1, "create the request." That would be the same for any procurement process at any company. The procedure will explain how to "create the request" in your company using your specific tools and software. You can think of a process as a high-level map, providing an overview of the journey, while a procedure would be analogous to turn by turn directions.
Both are essential. The "process" provides a big picture view, allowing you to optimize business value. The process is a blueprint for implementation, communications, and automation.
Once you know the process, you can design a solution and then develop your procedures!
A SIPOC diagram is a potent tool for process design and improvement.
SIPOC diagrams gained prominence as part of Total Quality Management (TQM) programs back in the '80s.
Today, SIPOC diagrams are an essential part of Lean Six Sigma initiatives and part of the DMAIC cycle.
DMAIC is a continuous improvement approach and stands for Define, Measure, Analyze, Improve, and Control.
We use SIPOC diagrams in the Define stage of the DMAIC cycle to capture all suppliers, inputs, process activities, outputs, and customers for the targeted process on a single page.
SIPOC is also a tool used with Agile, Lean (Kaizen event), or other Continuous Process Improvement methods.
One such example is Value Stream Mapping, where a SIPOC diagram is the starting point for decomposing a process.
In summary, SIPOC is used to capture the essential elements of a process on a single page before any process improvement work begins.
The most common use cases for a SIPOC diagram include:
Provide a high-level overview to people unfamiliar with the process

To re-introduce the process to people

As a tool to help design a new process

As the starting point for process improvement
SIPOC diagrams in the Navvia Process Designer
We are pleased to announce that SIPOC diagrams are now available in the Navvia Process Designer.
The good news is that most of the data elements required to create a SIPOC diagram are in the Navvia process designer. We only needed to make a few changes to Navvia for us to roll out this new feature. These changes included:
Adding an all-new "Systems" record to capture enterprise software.

Renaming Recipient(s) on the Output page to Customer(s)

Changing Suppliers on the input page and Customers on the output page from free form text to dropdowns

Allowing the Recipient and Customer dropdown to populate from Roles, Systems, and inter-process

Adding the SIPOC diagram to the documents & reports pages
The result is the all-new SIPOC diagram, now available on the documents and reports page.
You can export the SIPOC diagram to PNG, JPG, BMP, and PDF formats.
The SIPOC diagram is not available for inclusion in the process guide at this time; we will be adding this as a future feature.
To learn more about this Navvia feature, you can view the knowledge article located at the following URL: https://kb.navvia.com/en/articles/93086