What are process levels, and why are they important?
In this edition of our Process Management Minute Series, David will provide an overview of the process levels and how they contribute to the effectiveness of business process mapping.
What are business process mapping levels, and why are they important?
Process levels are an essential part of your business process mapping methodology and are one of the best ways to identify and organize processes in your company.
I've come across several different approaches to defining process levels during my career, but they are similar for the most part.
The most common approach uses process mapping levels 1-5. I like to throw in a "bonus level" six, which I'll cover at the end of this post.
Process Level 1
This process level identifies the organizational function to which the process belongs, for example, administration, finance, human resources, information technology, sales, marketing, or production.
Of course, these functional groupings may vary slightly from one company to another.
Process Level 2
This process level groups the processes of a particular function into groups.
In some companies, facilities management processes may be a group under administration.
Information technology may group things according to the ITIL 4 framework: general IT management, service management, and technical management processes.
Process Level 3
This process level specifies a particular process within a group.
For example, the facilities management group may include space management, work order management, and maintenance processes.
The IT service management process group includes incident, change, and problem management, to name a few.
Process Level 4
This process level is where the rubber meets the road and is where you define the high-level process flow.
Failing to embrace this essential process level is one of the significant failures in most company's process mapping and documentation approaches.
I often see people attempting to map a complex process on a single process map. This approach results in a process map that is difficult to follow and understand.
For example, I've seen numerous process maps with close to 100 individual process steps. The better approach is to break this down into six or seven high-level process activities, each with a corresponding process map.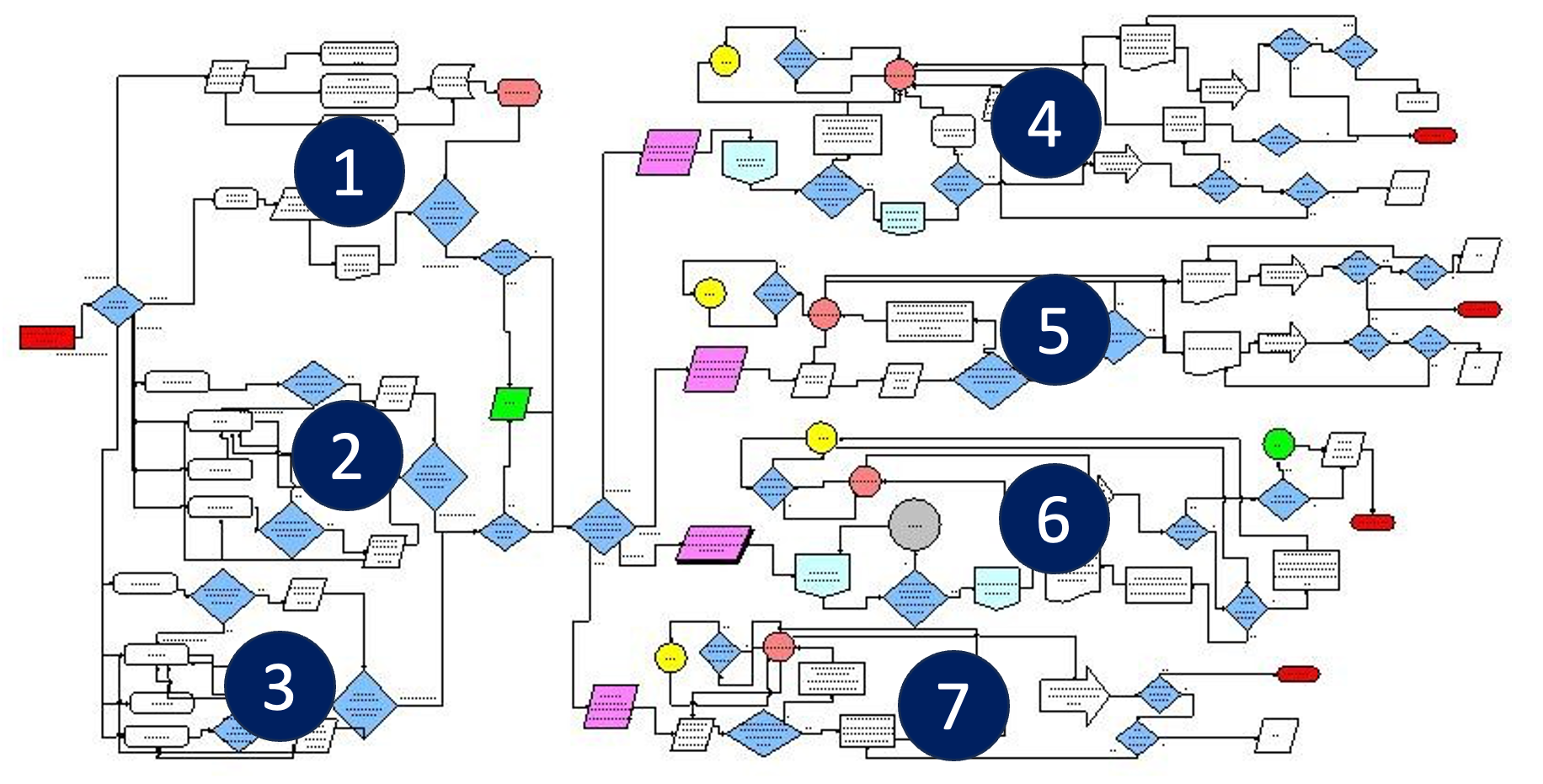 In the above diagram, I identified seven high-level process activities. I would then create a high-level process flow with seven activities, each activity breaking down into a more detailed process flow.
This use of a high-level process flow makes it a lot easier to understand and communicate the intent of the process.
Process Level 5
This process level defines the detailed process steps for each activity.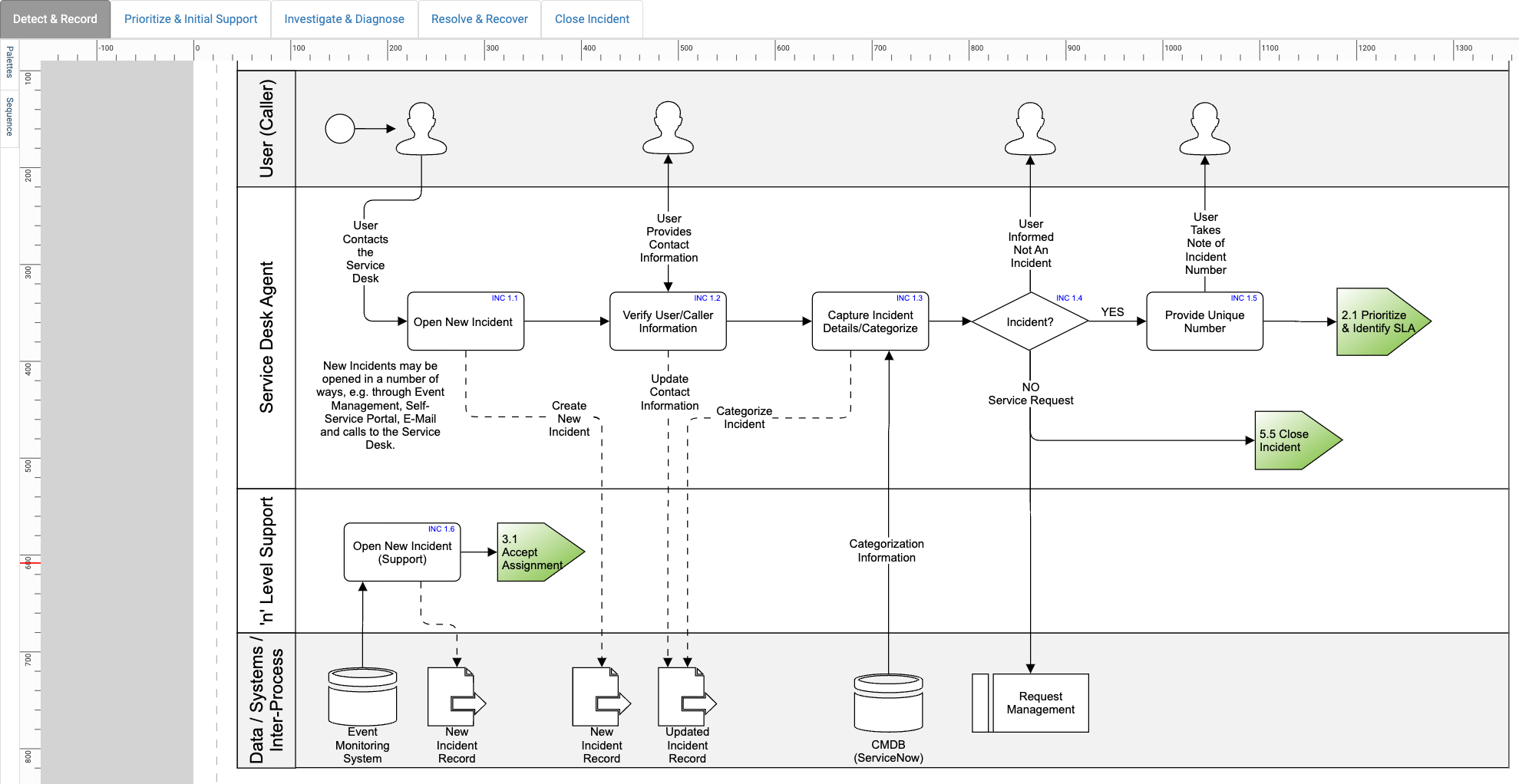 Click to Expand
In the example above, we broke the Incident Management process into five activities (the tabs across the top):
Detect and Record

Prioritize and Initial Support

Investigate and Diagnose

Resolve and Recover

Close the incident.
We then created a process flow diagram for each activity where we identified roles (swimlanes), tasks, inputs, outputs, related processes, and technologies.
Bonus Level 6
This process level is where you capture the procedures for each process step.
People often need clarification on processes versus procedures. Simply put, a process should define the what, and a procedure says how to do it. Check out our blog post "Process Vs Procedure. What is the difference?"
Staying with the Incident Management example, the first step of the Detect & Record activity is "Open New Incident." The procedure will provide step-by-step instructions on how to log in to your IT Service Management tool to create the ticket.
Benefits of Busiess Process Mapping Levels
Implementing business process mapping levels in your organization helps:
Provide a better understanding of how processes fit into the bigger picture of the company

Standardize how processes are defined, improving consistency and quality of the documentation

Assist in business process improvement activities

Provide an effective tool for training new or existing employees

Improve communication through a standardized business process modeling methodology.
---
Interested in learning more about process mapping? Be sure to check out these informative articles: