The Importance of a Process Maturity Assessment
If you are just starting your IT Service Management (ITSM) program or have been working on improving your ITSM environment for some time, you need to know where you are to be able to be successful and address you most critical "pain points" first. For this I highly recommend a process maturity assessment.
Successful ITSM programs are all about generating value to the organization and your customers. Starting or executing an ITSM program is like having a map in front of your eyes with all the roads, houses, rivers, railroad tracks, mountains etc. (read processes, tools, organization, governance, management, funding etc.).
If you don't know where you are on the map you will never be able to get to the finish, you are lost. Sometimes this is the feeling many practitioners have when they embark on an ITSM journey or have been working at it for some time – they don't know where they are on the map and they feel lost.
You need to establish a baseline and assess where you are. You can assess the tools you have, organizational structures, skills, change saturation, funding, management support and many other things to gain the understanding where you are.
Process Maturity
This article will focus on howcIt's a case study from a fortune 50 company that assessed 14 of their ITIL processes within just a few weeks and managed to create strategic process roadmaps for each of the processes in the four domains of People, Process, Partners and Technology.
You can of course use a consulting company that would assess your processes and pay them the big bucks $$ or you can do this yourself using a tool called Navvia where you own the assessment data and can compare your assessment with future assessments.
Navvia is a SaaS solution with an annual subscription fee. (I don't work for Navvia but if you need help with creating a ROI send me a note).


In a nutshell this is what we did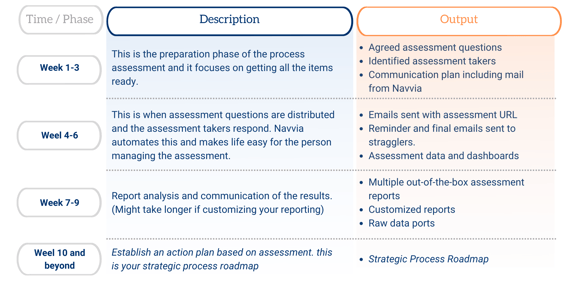 Ok, so this looks easy enough but how is this done so fast?
Navvia provides templates and standard assessment questions for most of the ITIL processes for three domains – People, Process and Technology. Navvia really helps the person managing the assessment in all three phases and even beyond that if using other capabilities in Navvia.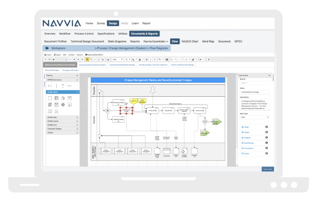 In our assessment we focused on CMMI level 0-3 (the tactical part) and we selected 20 standard questions for every process and added about 5 more process specific questions so each process assessment had +/- 25 questions in total. This makes it possible to somewhat compare process maturity between processes as 20 questions of each process are exactly the same.
You have to identify the people that will take part in the assessment (and load them into Navvia). We placed every assessment taker in one of five groups: Management, Process SMEs, Supplier/Customer, Vendor/Partner and General (you can define your own groups).
It is recommended to have a minimum of three people represent a group or the data can be skewed. Having groupings enabled us to compare for example if management had a different view than the Process SMEs who execute the process on a daily basis (see sample report extract below). We also worked on the emails to be sent from the tool when distributing the assessment to the participants.
All identified assessment takers were informed about the assessment in advance, why we are doing it and the expected output etc. This was part of the overall communication plan.
Starting week four we have now informed the participants about the assessment and told them that they will receive an email shortly with a personal URL to the process assessment questionnaire. Some individual received multiple emails as they were identified as Process SME for one process and Customer for another process (VERY important to communicate this prior to the assessment).
Within Navvia it is possible to track who has not finished the assessment and we sent out reminder emails to those individuals. In general we had an 85% repose rate after sending the 1st and final reminder.
In our case we assessed 14 processes and this generate more than 17,000 data points (yes, that is a lot) so having out-of-the-box pre-defined reports were extremely valuable. We used 5 reports (there are a few more) and extracted the relevant data and made sure we had the right report published with the right amount detail to the right audience. It is also possible to extract all the raw data in e.g. excel format and manipulate this within excel, a great feature if you are a data mining type.
My favorite five out-of-the-box reports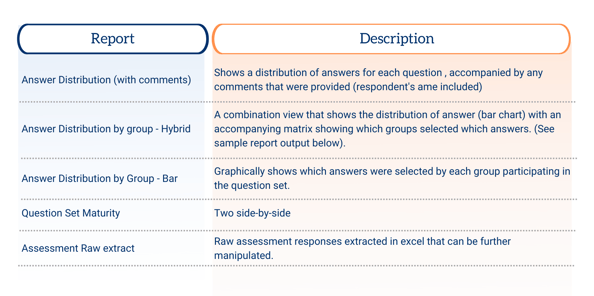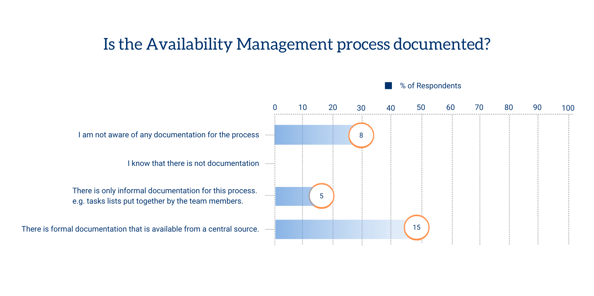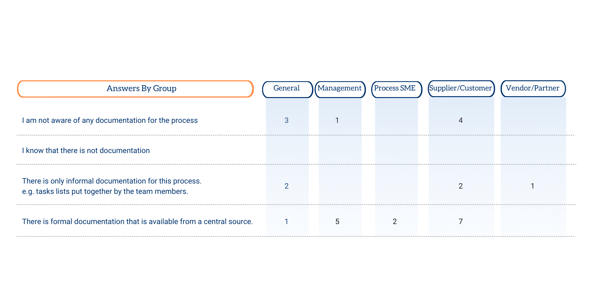 Example report output from: Answer Distribution by Group – Hybrid
We have now a very good understanding of where we are on the map and can establish a plan how to move forward.
A continuous process improvement program has been established and we have created 12-month rolling Strategic Process Roadmap for each process focusing on four domains: People, Process, Partners and Technology. Now we just need to execute…
Some of the key value drivers from the process assessment initiative were:
We identified some quick wins we could fix right away without delay that generated a lot of positive feedback from our customers and staff
We have now a 12-month rolling process roadmap based of facts rather than "educated guesses" that is driving process improvements long term
Our users and staff are engaged as they participated in the survey and recognizes the issues identified and are willing to help mitigate these issues and have provided some great ideas and suggestions
We were able to set priorities between the processes as well as within a specific process area and focus on the most critical and important issues first
We also used the data to establish a Continuous Process Improvement program that is automated and controlled using Navvia that generates compliance reports.
About the Author: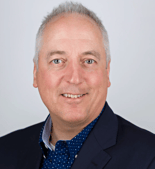 Thorsten Manthey is passionate about IT Service Management, process governance and cultural and organizational change management. Thorsten has worked across multiple industries including health care, pharmaceutical, oil and gas, financial services, insurance and telecommunications in North America, Europe and Scandinavia.
Thorsten holds a Master's degree in Computer Science and Engineering. He is an ITIL V3 Expert and ITIL V2 master, and a Certified Change Management Professional (CCMP). Thorsten speaks English, German and Swedish and is an international speaker.
Contact Thorsten at: www.tmanthey.com or via email at thorsten@tmanthey.com